Technopreneurship Education: The Way to Rebuild COVID-19 Affected Economy
Yashfeen Qasim

Institute of Administrative Sciences, University of the Punjab

Zulaikha Mahmood

Institute of Administrative Sciences, University of the Punjab
Keywords:
Entrepreneurship, Entrepreneurial Education, Technopreneurship, Information Technology (IT)
Abstract
Technopreneurship is a new mode of entrepreneurship that can help us rebuild the devastated economy. With COVID-19 posing rising unemployment and growth related challenges, technopreneurship can prove to be rewarding by decreasing the burden of government, improving socioeconomic conditions, and creating employment opportunities. Technopreneurship has gained significant traction in Pakistan and successive governments have made considerable efforts to promote this concept. In this regard, universities have been directed to include courses of entrepreneurship and IT in their graduation programs, since universities play a major role in transforming the youth into competent professionals. However, actual technopreneurial activities are still limited. Since the efforts to support technopreneurship are ongoing, the current study tends to evaluate the extent to which educational institutes contribute to these efforts. For this reason, 15 semi-structured interviews were conducted with technopreneurs to take their viewpoint regarding the courses of entrepreneurship and IT taught to them and the role of these courses in their success. Thematic analysis was performed on the collected data. The findings identified that although the courses offered by universities are a motivator for students to adopt technopreneurship as a field, still there exist some significant gaps in teaching methodology and course design. There is a need for additional and latest courses, field-experienced faculty, and the overhauling of the curriculum to create more successful technopreneurs. Suggestions were also provided at the end of the study regarding how educational institutes can strategize to create more technopreneurs in the future. The current study was limited to the vicinity of Lahore, as time and resources were not sufficient to cover other cities. It used a mixture of purposive and snowball sampling techniques which may have impacted the findings, since the individuals in the population did not have an equal chance of being selected for the sample.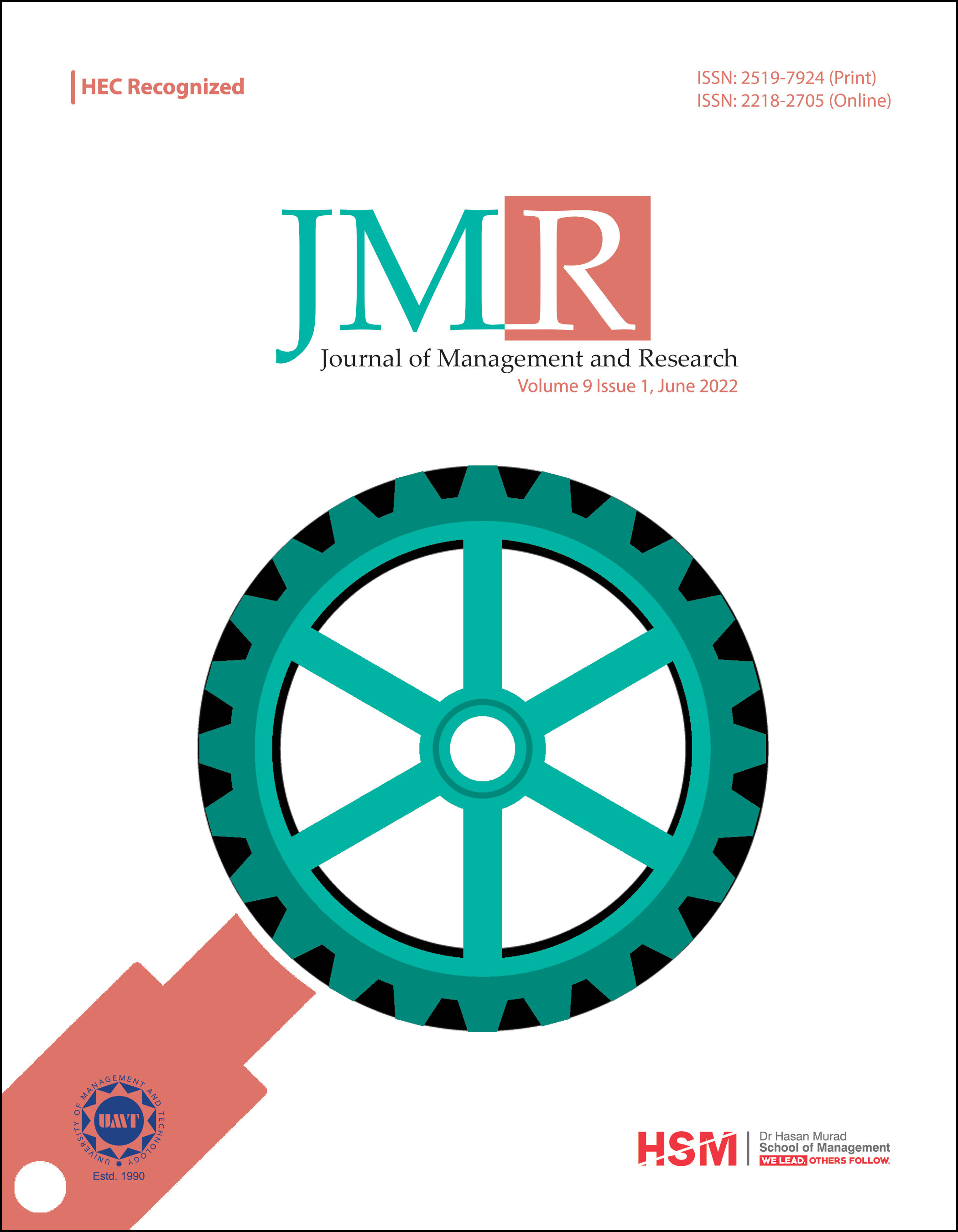 How to Cite
Qasim, Y., & Mahmood, Z. (2022). Technopreneurship Education: The Way to Rebuild COVID-19 Affected Economy. Journal of Management and Research, 9(1). https://doi.org/10.29145/jmr/91/01
Copyright (c) 2022 Yashfeen Qasim, Zulaikha Mahmood
This work is licensed under a Creative Commons Attribution 4.0 International License.
Thus, work submitted to Journal of Management and Research implies that it is original, unpublished work of the authors; neither published previously nor accepted/under consideration for publication elsewhere.