Impact of Leader-Member Exchange Relationship and Job design on Counterproductive Work Behavior (CWB): The Role of Job Burnout
Omer Azam

Faculty of Management Sciences, International Islamic University, Islamabad

Syed Tahir Hussain Rizvi

Faculty of Management Sciences, International Islamic University, Islamabad

Imran Ghafoor Chaudhry

Coordinator Planning, COMSATS Internet Services (CUI), Islamabad
Keywords:
Leader member exchange (LMX), Team-members exchange (TMX), Job design, Job burnout, Counterproductive work behavior (CWB) and Conservation of Resource theory (COR).
Abstract
The aim of this study is to synthesize the effect of Leader-member exchange relationship (LMX) and Job design on Counterproductive work behavior (CWB) through the mediating lens of all three dimensions of Job Burnout that based upon Conservation of Resource (COR) theory. A sample size of 350 respondents was used for collecting data with the help of research survey by distributing questionnaires to the employees who are working in public sector universities of higher education sector that are currently based in twin cities (Islamabad and Rawalpindi) of Pakistan. Techniques of Simple and Multiple linear regressions were carried out for accessing mediation analysis via SPSS version 21.0 and AMOS version 27.0.  Findings of this study has revealed that LMX relationship is significantly but negatively related to Counterproductive work behavior (CWB) and Job design is significantly and positively related to (CWB). Also Job Burnout is a significant variable that mediates between Leader-member exchange for developing quality exchange relationships, job design and counterproductive work behaviors. This study gave into new insights and results into the existing body of knowledge along with practical implications and outcomes. Limitations for this study along with future directions of research are also discussed at the end.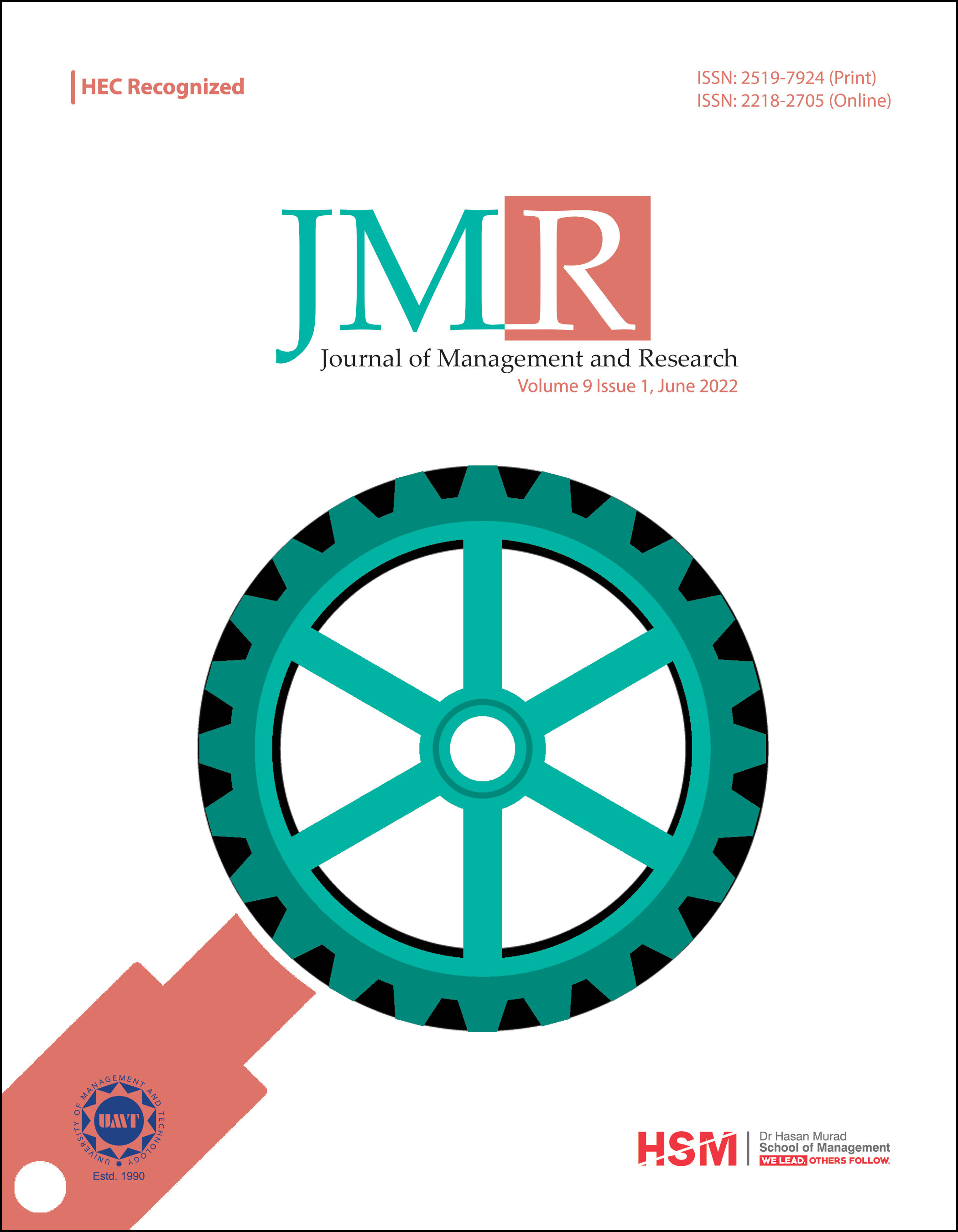 How to Cite
Azam, O., Rizvi, S. T. H., & Chaudhry, I. G. (2022). Impact of Leader-Member Exchange Relationship and Job design on Counterproductive Work Behavior (CWB): The Role of Job Burnout. Journal of Management and Research, 9(1). https://doi.org/10.29145/jmr/91/06
Copyright (c) 2022 Omer Azam, Syed Tahir Hussain Rizvi, Dr Imran Ghafoor Chaudhry
This work is licensed under a Creative Commons Attribution 4.0 International License.
Thus, work submitted to Journal of Management and Research implies that it is original, unpublished work of the authors; neither published previously nor accepted/under consideration for publication elsewhere.