JQM welcome its new editors
2020-05-11
Announcement of New Editors of the JQM
The JQM Editor Search Committee is delighted to announce the appointments of Prof. Dr. A. Philip Sussan and Dr. Ismail Shah as the new editors of the Journal of Quantitative Methods (JQM). The search committee received twenty applications from the interested candidates for these positions and the selection of these two editors was made by the JQM advisory board on the basis of majority votes.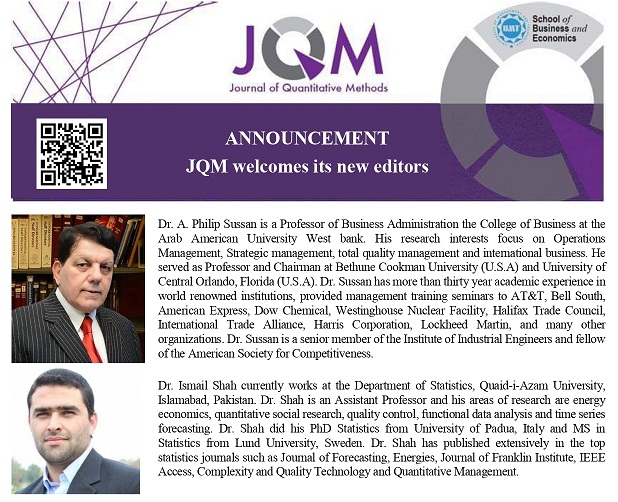 We are very pleased to share that Prof. Dr. A. Philip Sussan and Dr. Ismail Shah have joined our JQM team from May 10, 2020. We hope that their addition to the team will prove to be a great asset for the JQM. Finally, on behalf of the Department of Quantitative Methods, School of Business and Economics, University of Management and Technology, Lahore, Pakistan, We again warmly welcome the new members of our team and we look forward to working with them. 
We wish new editors all the best for future success!
Thank you!
Prof. Maqbool H. Sial                                                            Chair, JQM Search Committee
Editor-in-Chief
Dr. Sajid Ali                                                                              Member, JQM Search Committee
Editor
Romila Qamar                                                                        Secretary, JQM Search Committee
Editorial Assistant